Why take control of your life now…
Are These Feelings Affecting Your Life, Family, Relationships, Your Job?
I get it! Everyone feels a certain sense of anxiety, a natural fear or stress that comes up when faced with something new or the unknown. But yours is more than that. You have thoughts that play over and over again in your head. You have a hard time not focusing on that negative thought or that thing that you just can't seem to get over. Even reading this may be making you feel a bit anxious. You have been dealing with this for a while and others don't realize it because they can't see it and you've been able to mask it pretty well even though you feel like it's getting out of control. These out of control thoughts, feelings and fears are not only affecting you personally, but they are affecting your relationships, your friendships, your family and your job or school experience.
Your feelings of being on edge and restless have only gotten worse during the pandemic and all of the racial unrest going on now. You want to get over it, move past it, stop thinking about it, but you just haven't been able to. You want peace. You want to be able to have a thought and not get lost in the what if …. the cycle and the spiraling down of your thoughts.
I Want to Help You Overcome Your Anxiety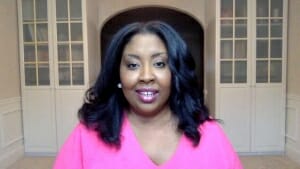 I completely get how you feel. I am Alisha Curry Walker, a wife of 21 years with five children, with two of them going back to school out of state. It was one thing when we were all quarantined together at the start of the pandemic, but now having to trust that they will be okay when they are not in my presence. Right now we are all going through a collective crazy, upside down time. Even Michelle Obama mentioned recently how the current events of the Coronavirus, protests, and quarantine have worn on her. You are not alone. I've even had my fare share of feeling just plain out of sorts and lost during this pandemic.
I am a LicenseProfessional Counselor, but I have had my fair share of anxiety during this pandemic. Feeling nervous anxious, having trouble sleeping, having trouble concentrating, feeling stressed, tightness in my body and just freezing and feeling stuck. So, I've had to use the skills that I teach my children and my clients to use to overcome the anxiety. And I want to help you do the same.
In doing this work, I realize that I want to be able to help you in the same way that I have been able to help myself, my family and my clients.
I'd love to help you. I am a Licensed Professional Counselor and Coach and have been for 25 years and have worked with thousands of people to help them manage their mental, emotional and spiritual wellbeing.
I know that I can't personally work with everyone one-on-one but I still have a desire to help. If you want to learn the skills to help you overcome your anxiety, you can join me in my upcoming How to Overcome Anxiety Course.
Let Me Help You in the How to Overcome Anxiety Course
You can beat anxiety and this course will show you how……
How to Overcome Anxiety Course
What's included in the How to Overcome Anxiety Course:                                     
* Help to recognize where your anxiety is coming from and realize that you're not alone
* Recognize how anxiety shows up in your body and how it affects you,
* Identify the cycles of thoughts and how they spiral downward and identify what isn't working
* Identify strategies to overcome anxiety
* Develop your own personalized plan to overcome anxiety
* Cheatsheet download with apps, websites and resources to help you overcome anxiety
* Psychological, practical and spiritual tools
* Digital workbook / journal to use during the live course as a guide and your personalized plan
* Video Course
* Audio Course
I  had a mother daughter team go through it together. This is what the mom had to say:

"Hi sis! I cannot thank you enough for this course. It gave me a holistic way to communicate with my daughter and share our own experiences with anxiety with each other. We learned a lot from the course and each other. We have our plan and affirmations and are looking forward to using some new tools."
My goal is to go right after anxiety and give you action steps to overcome it.
If you are ready to make changes today, click the link to purchase.
My counseling sessions are typically
$140 per hour
But….
I know so many people are struggling with anxiety that I want to help as many people as I can!!!
So …. You can purchase the course for $47
I know you will go through many seasons in your life, this just happens to be a season with more challenges than most. Join me in the How to Overcome Anxiety course today to help you manage this season.
But it can't help unless you make the commitment to your self today!
Frequently Asked Questions
Who is this course for?
This course is for people experiencing anxiety and are ready to make changes to live a more peaceful life. It is intended for people adults 18 and up. (If however you have a teen who you believe could benefit, they can join as well.)
Can I purchase this course for someone else?
Yes, you can join the course for yourself and you can either invite or purchase the course for others you know who could benefit from the course.
If I take this course, should I let this replace the work with a therapist?
No, this course is not a replacement for counseling with a therapist. This is another resource to support you in overcoming your anxiety and can support the work that you're doing.