How Entrepreneurs Can Overcome Depression
"IT'S OK IF YOU FALL DOWN AND LOSE YOUR SPARK. JUST MAKE SURE THAT WHEN YOU GET BACK UP, YOU RISE AS THE WHOLE DAMN FIRE"
– Colette Werden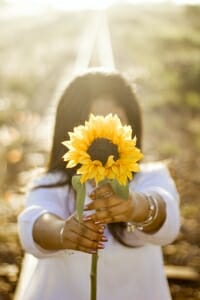 The stress of building a business can be overwhelming and can lead to bouts of depression or anxiety, whether these feelings las a few hours, a few days, a few weeks, months or even years. Have you ever had a time in your business where you had so much going on and you felt like your brain was constantly moving? You began to feel a pressure or a weight on your heart and your breathing? In the moment that you felt the pressure pushing in on you, what did you do? Do you know what to do in those moments?
The pressures of business can come at any stage of business. The pressures of having a business that you desperately want to be financially successful but you're struggling to even earn enough money to cover putting gas in your car let alone cover your basic bills. The pressures could be from having a wildly successful business, more than you ever imagined. People see you and your success and think you have the life that they want to lead, but little do they know that you are about to crumble under the weight of the success, the stress of having to juggle it all, being responsible for everyone else's salary and if you were honest there were some days where you wish you could give it all up and go back to a simpler life.
Does any of this sound familiar to you? Running a business is kind of like having a baby, everyone talks about the love they feel for the baby and how cute it is and all of the happy moments, but no one talks about the sleepless nights, the stress of raising a child and the thought of "what did I get myself into"? If any of this sounds like how you are feeling now then this is for you.
I want to share with you some strategies you can use moment by moment if necessary to deal with feelings of worry, stress, fear, anxiety and depression. This is a resource for you to use when you feel overwhelming feelings and at the moment, you may not have anyone to talk to about this because you may not have anyone that would understand the emotional roller coaster that is being an entrepreneur.
Here are 6 tips to help you take control and learn to regulate your thoughts, feelings and behaviors to overcome depression.
1. RECOGNIZE THE SIGNS AND SYMPTOMS OF DEPRESSION
Recognize how depression can impact you personally and in your business.
Depression can present differently and what I share here is what depression can look like for an entrepreneur.
Not having the energy to fulfill a task that you know needs to get done to make sure you meet a financial goal.
Overwhelmed and feeling stuck with the work you need to do.
Your brain feels like it's scrambled, you can't focus, you can't make decisions and your mind just feels cluttered.
You try to avoid people especially on the days that you are feeling down
You isolate from people. You may already be an introvert, but this is even bad for you.
You feel like crying when you think about what you have to do for work because you feel overwhelmed
You have little to no balance in your life, you have dived all into the business and family and friends are complaining about you spending all your time on the business
You are irritable and people are beginning to ask why do you seem mad all the time
You have trouble sleeping either falling asleep or staying asleep because your mind is racing
You are tired all the time, you have very little energy
You've begun to gain weight because you eating habits have gone down
You have negative thoughts that can spiral downward before you even realize it.

2. ACCEPT THAT THERE IS SOMETHING WRONG

Now this may seem a little obvious that if you're reading this chances are you realize that something is wrong or you have someone you care about that this could help. What I mean by accepting that something is wrong is allowing yourself to accept that this is an issue and move from I know that I'm not operating at my best level to I need to do something about this because my business and personal life are being impacted by this.

Accept that something is wrong and begin the process of understanding how it is impacting you. Don't fight against it by just telling yourself to stop or you just need to suck it up and hustle harder or by saying to yourself if you had more faith you would be able to handle this.
Don't just put on the mask of the happy face bury how you feel, suck it up and move on. Sweeping these feelings under the rug begins with just a small pile but eventually it becomes the elephant in the room that you can no longer ignore and go around.

3. LEARN TO REFRAME AND RETRAIN YOUR BRAIN

I know this sounds really over the top, but the reality is a big part of depression is having negative thoughts, feelings and behaviors and being able to reframe your thoughts and feelings into ones that can help you turn things around.

Reframe negative thoughts and emotions by changing your mindset. In the middle of feeling stressed about things going on in your business, you could reframe your thoughts to I am grateful to have this business because I could be back at the job I used complain about because I hated it.
Change your perspective, physically change your surroundings. If you can in the moment of feeling the stress build physically get up and move, you can not only change your perspective, but you can also change your state of mind.
Concentrating or overly concentrating for long periods of time can add to the stress and feelings of overwhelm because you are hyper focusing. Yes, as entrepreneurs those moments of flow are how you get things done, but have you ever noticed that after long periods of being in the flow state and not taking a break you feel exhausted, you are mentally spent.Having trouble remembering things.

Change your perspective either by physically getting up and changing the scenery or just changing to a task that doesn't require as much mental power in order to give you mind an opportunity to recuperate. You can also get up and move.
When under stress in the moment, get up, go for a walk, notice the surroundings that you're in being mindful of what you see, notice your breathing and change your focus from work to what is around you. If you can't get up and get out, use a ball or small object you have in your office and toss it back and forth for about 3 minutes only focusing on the ball.
Ground yourself in the moment that you are stop whatever you are doing and notice what's around you with your 5 senses. Notice 5 things you can see, 4 things that you can hear, 3 things that you can touch, 2 things you can smell and 1 thing you can taste.All of these examples are quick ways to retrain your brain to move from a focused state to a more relaxed state. This will help to declutter your mind, unblock your creative more expansive thoughts that help you problem solve and make better decisions.

4. CHOOSE SOMETHING ON A WEEKLY BASIS TO TAKE CARE OF YOURSELF

Self care is a buzz word that everyone is talking about and I want you to incorporate this into how you are going to move forward. Self care is different for everyone, some people like to relax and read a book, others like fine dining or a massage, some people like going dancing or watching a game or going hiking, flirting or having sex.

Self care is a way to remind yourself of the things that you like that you enjoy and may have given up since starting your business and focusing on making sure you're getting things done. Take time to move your brain from hyper focus to relaxation, rest and renewal. This part of the process gives your mind and your body a chance to replenish with what you enjoy and whatever that looks like for you.

5. GET SUPPORT FROM A COMMUNITY OF PEOPLE WHO CARE ABOUT YOU, FAMILY FRIENDS, SPIRITUAL GUIDANCE

These people are there to help hold you up and to hold you accountable for the changes that you want to make. The people who support aren't perfect but they should be people who are willing to add to your growth and not your demise. Get a good support system.

6. GET PROFESSIONAL HELP

THERE ARE DIFFERENT TYPES OF HELP

*  Business Coach – a person who can help you develop and grow your CEO mindset by helping you set goals, implement tasks to help you focus, remove the clutter, move you from being stuck, hold you accountable for your progress and growth and being able to teach you how to shift your mindset. A business coach would be a good fit if you can identify with some of the symptoms above and feel like you can accomplish the tips outlined in this resource but you know you need more support. Please visit my website at https://alishacurrywalker.com for more information on how we can work together.
*  Mental Health Therapist – a person who can help you deal with depression and other factors that may be impacting your mental health. A therapist would be a better fit if you have been dealing with the symptoms described above for an extended period of time and even with the tips given above all though they sound great, you just don't have the energy to implement them. Please visit my website at https://alishacurrywalker.com  for more information on how we can work together or how I can help you find the right fit.